School Programs
Diversity Programming | Special Events | School Brochure

School programs are designed to meet the needs and QCC standards of each grade level with our educators speakers and performers delivering the best of cultural edutainment to elementary, high school and college groups across the southeast.
School Visitation Program: This program may serve the intimate needs of single or multiple classrooms or large assembly groups in your school gymnasium, media
center, etc. Storytelling, traditional song and dance, artifacts, show and tell, student and teacher participation, dance games, musical implements, Q & A, and more.
Good Medicine Show: This program is a showcase of American Indian dancers, singers, crafters, storytellers, primitive skills educators and horse show that bring a full scale Pow Wow "festival" to your regions school system. A cost effective way to maximize your student's over-all benefit, by several schools participating in a local field trip within the community.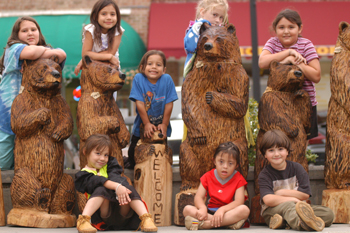 Stewardship Development: This program may be introduced with or without the Native dances and performers. The dialogue of Stewardship development initiates a responsible partnership between humankind and the Earth while stimulating a pro-active alliance for the betterment of both. A reasonable plea for engaging a healthier relationship with the single most important organism in our universe.
Environmental awareness
Eco-nomics
Personal Responsibility
Self Reliance
Would you would like your school to visit a full scale Pow Wow or have a piece of Native America, visit your school? For customized scheduling and prices, contact:
rollingthunder34@ymail.com
770-735-6275
Rolling Thunder Enterprises
34 Rolling Thunder Drive
Jasper, Georgia 30143

Corporation's, Colleges, Military, Law enforcement, Scouts, Churches
Rolling Thunder Enterprises has two decades of diversity lectures and educational seminars to our credit
thanks to an ever-changing world where corporate and government entities alike are recognizing the value of cultural awareness in the workplace.
Respecting diversity/cultural sensitivity
Breaking Stereotype
Combatting peer pressure by building self-confidence
A favored government curriculum
rollingthunder34@ymail.com
770-735-6275
Rolling Thunder Enterprises
34 Rolling Thunder Drive
Jasper, Georgia 30143
Special Events, Grand Openings, Festivals, and Fairs
Event organization, Consulting, Marketing and Promotions
Warriors on Horseback
Tipi (tee pee) display and or encampment
Dance troops, bands and musical performers
Arts and crafts (commercial and artifact displays)
Snake shows, alligator handlers and wildlife displays by request

Note: All animal presentations are educationally oriented and strictly
monitored for the welfare of the animals and the viewing audience

Chipa Wolfe – Educator * Entertainer * Earth Keeper
Chipa has been producing special events for two decades with rave reviews from educational institutions, corporations, law enforcement and government leaders. He has consulted for writers, filmmakers, music videos and museums and has served as the Intertribal Affairs Advisory for cities, colleges, heritage centers and the National Patriot Museum in Atlanta.
Chipa who is both French and Indian decent with a real affinity for horses and the wild west professes to be cowboy and Indian but his desire to highlight Native culture is amplified by a deeper desire to promote a union between man and Earth. Chipa was actually named after his uncle Charlie Wolfe and then nicknamed Chip. Inspired by his uncle, Indo Vasquez who was the famous champion wrestler (Chief Lone Eagle) of the late 40's & 50's, it was a natural for Chipa to fuse his love for the Earth and Native people in a way that could draw greater awareness to both plights.
rollingthunder34@ymail.com
770-735-6275
Rolling Thunder Enterprises
34 Rolling Thunder Drive
Jasper, Georgia 30143