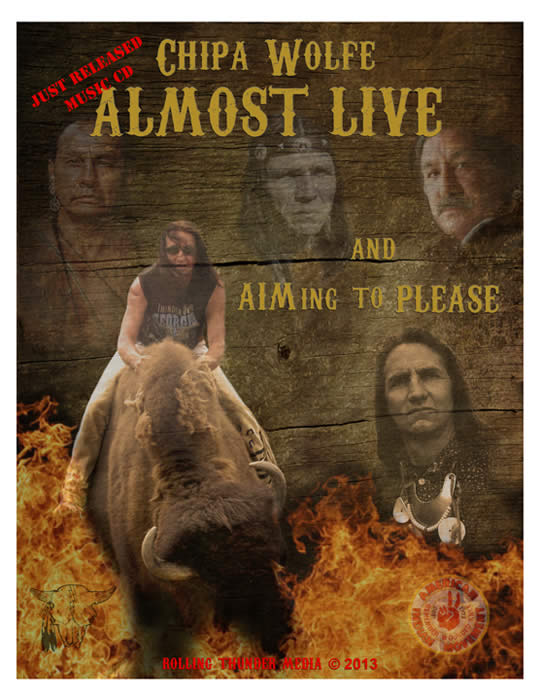 As a long time supporter of Indigenous rights, eco-alliance and animal welfare, I have re-released a composition of thought that was derived by heart and spirit. The songs and music on this CD are comprised from a longtime, compassionate lifestyle in which my intent is not to pretend that I am more capable of feeling what I feel than the next person but rather to awaken, if not invoke, the consciousness within us that often dwindles into complacency however unintentional. This album may have numerous errors via my vocals but I have placed one rhetorical error within the confounds of history as it has been customary for Native People to leave a flaw within their finest works of art in respectful accordance and humility of the Creator. This flaw is also to entice you into learning more about Native American political prisoner, Leonard Peltier.
I am quick to point out that I am merely of Indian descent with a passion for animals, the Earth we live on and the embodiment of a people that have taught me the words Mitakuye Oyasin or, all my relations, the words that I had been born with and continue to subscribe to via a consciousness that I am happy to have even though some people feel it to be a curse. Consciousness leads to responsibility, so be careful as you learn more about Leonard Peltier and a government who suppresses the entire Native American Alliance by his continued incarceration. With that said, I remain an advocate for non-violence and peace while at the same time standing strong for those who suffer the indifference of injustice. Without law we have anarchy but within those laws should live the good reason, fairness and even mercy of those who prescribe it and subscribe to it.
I would like to lend a special tribute notice of this album to the late great Walker Calhoun and to all of my friends of the Eastern Band of Cherokee and the Western Band of Cherokee as I am not a member of any tribe but am grateful for all they have afforded us in their struggle to maintain their cultural identity as we enter into this new millennium.
The music on this CD is a recompilation of Tears of Surrender and I hope you enjoy what was gifted to me in the form of music by something much greater than myself. This CD and any of my writings are inspired by those who have given so much more of themselves to my very existence be it musically, emotionally, physically or... I will start with Ruby Lance-Wolfe and Cecilia Wolfe who depict a common decency and goodness to which I aspire. To my sister and niece, Cherokee Rose and Silena, for their musical inspiration and writing abilities as well as that of Larry Giles and the Native musical great and four-time Grammy Award winner, Bill Miller, Okefenokee Joe for his many teachings through song and example; Thunder and a host of other inspirational animals in my life. There are so many other friends and earth keepers that it is impossible to list them all and the beauty of these friends lies in them knowing who they are. Enough with my long-winded self...
Order one today and let me know when you find the flaw by emailing us at:
chipa.wolfe@yahoo.com
Order by PayPal
$15.00 includes S&H
Make checks/money orders payable to: Rolling Thunder Enterprises
34 Rolling Thunder Drive
Jasper, Georgia 30143
Have a happy day,
Chipa